About Kats Botanicals
Good Manufacturing Practices (GMP)
Kats Botanicals provides consistently clean, premium Kratom imported directly from southeast Asia.
We realize it's one thing to say our Kratom is pure and safe; it's another thing entirely to prove it.
Kats Botanicals has implemented a nationally recognized Kratom manufacturing process control program: American Kratom Association's (AKA) Current Good Manufacturing Practices (cGMP).
Being able to say that we are an AKA cGMP-certified supplier of Kratom means we are among only a select few botanical products companies that make this grade.
Meeting or exceeding the AKA's cGMP standards and guidelines takes time, diligence, and ongoing investment into our products, facilities, and employees training. We're proud of being cGMP certified, a designation that demonstrates to our customers we put their safety first.
What Exactly Are Good Manufacturing Practices?
The American Kratom Association has set forth an extensive list of strict qualifications and requirements that must be met for any Kratom company or supplier to obtain cGMP certification.
The idea behind AKA's cGMP certification is to set a universal standard for excellence in ensuring the safety and quality of Kratom distributed by US-based companies and suppliers like Kats Botanicals. In our case, this means protecting our entire line of 30+ Kratom strains from contaminants and validating the potency of each strain using independent, third-party testing.
What cGMP Certification Means for Quality
It might be helpful to think of a cGMP certification as a validated seal of quality. It means that whatever is produced using cGMP-certified practices, the facilities and personnel are held to the highest standards of cleanliness and purity.
For Kats Botanicals, this protocol includes the following steps:
Every shipment we receive is sent through a rigorous quality control measure that involves checking for damage, irregularities, or signs of tampering.
To keep track of Kratom as it's processed, a lot number is generated for use in tracing the Kratom all the way through to final distribution.
The process of applying mild heat to raw materials helps to ensure that microbial loading is reduced.
Unique samples are taken and Certificates of Authenticity are generated for each Kratom batch that is spectroscopically tested for microbes and heavy metals. During this step, the presence and concentrations of Mitragynine and 7-Hydroxymitragynine are determined.
During this step, a final check is made to ensure that only tested, validated, and purity assured Kratom makes its way to production and packaging.
All packaging material is tested for cleanliness and traceable codes are assigned to all packaging material components.
After every check has been made to ensure full compliance with the cGMP processes listed in steps 1-6, the final product is labeled with a traceable code and released for distribution.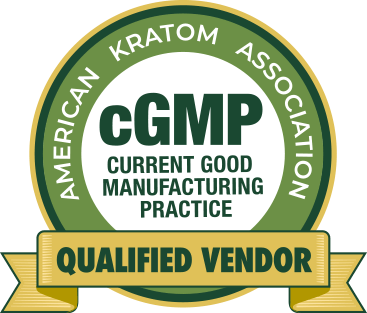 In addition to the quality control measures listed above, additional steps are taken to add even more control to how our production area operates, including:
Maintaining a clean and hygienic manufacturing area.
Controlling environmental conditions in order to prevent cross-contamination from adulterants and allergens.
Having clearly defined, controlled, state-of-the-art manufacturing practices. All critical practices are validated and compliant.
Writing all Instructions and procedures in clear and unambiguous language using good documentation practices.
To ensure continued compliance, these evaluations are performed by an independent, third-party inspector must perform an on-site evaluation of all facilities. These evaluations are also performed periodically after cGMP certification is awarded.
Our Ongoing Commitment to You
We were one of the first Kratom companies to begin small batch testing of all our Kratom products before sending orders out to our customers.
This dedication to quality extends to the very processes we use for handling, packaging, and distributing our botanical products.
We don't take any risks or cut any corners when it comes to quality, and we never will.
Our AKA cGMP certification is yet another reason why our customers love Kats!